Product Description
2.5 oz bags / 8 bags
EPIC Bites were created to conveniently feed our inner hunter while staying true to the fundamental principles of consuming clean food. Our bites are inspired by the evolutionary diets of our ancestors and consistent with our own deep-rooted genetic makeup. By harvesting the primal power of animal based protein, EPIC Bites are guaranteed to fuel your most EPIC adventures.
Our Bison + Bacon Bites are a sweet and savory snack guaranteed to satisfy your highly evolved carnivore palate. We achieve this flavor forward experience by balancing sweet notes of golden raisins with savory bacon. To take our Bites to the next level of sensory pleasure, we add organic chia seeds for a slightly nutty texture. As with all EPIC products, our Bites are inspired by the founding principle of our company: "Feed others as you wish to be fed."
EPIC ATTRIBUTES
- OMEGA-3'S
- IRON
- CLA
- VITAMIN B12
- BACON LUST
- CHIA SEEDS
- PALEO FRIENDLY
Ingredients: Natural Bison, uncured bacon (pork, water, sea salt, vinegar, celery powder), golden raisins, chia seeds.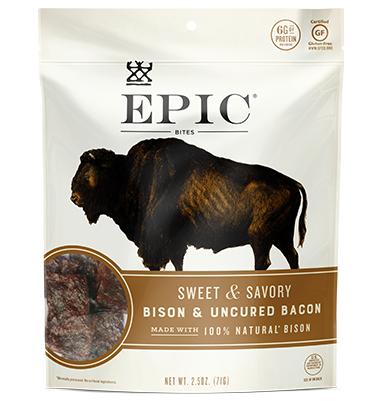 dairy-free
egg-free
gluten-free
nut-free
paleo
sesame-free
smart-snacks
soy-free
sunflower-free
wheat-free
yeast-free